Bangkok Cardiologist Dr. Nademanee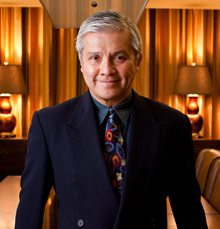 About Dr. Nademanee
The Director of Pacific Rim Electrophysiology Research Institute, Koonlawee Nademanee, MD, FACC, FAHA, is a world-renowned cardiologist in Bangkok, Thailand, specializing in cardiac electrophysiology. Practicing for over 30 years, he is board-certified in internal medicine, cardiovascular disease, and cardiac electrophysiology.
Dr. Nademanee is especially well-known and regarded for discovering specialized areas of the heart where arrhythmias originate using a mapping of complex fractionated electrocardiograms (CFAEs). He pioneered a breakthrough treatment for both chronic (persistent) and paroxysmal (intermittent) cardiac arrhythmias called CFAE ablation. This revolutionary technique offers patients quicker recovery times and higher success rates over standard ablation protocols.
The CFAE ablation technique has brought Dr. Nademanee international attention, drawing esteemed physicians from countries around the world including Taiwan, Japan, Italy, and France. An equally diverse patient population travels to electrophysiologist Dr. Nademanee for arrhythmia treatment as he has seen patients from throughout California, across the United States, and around the world.
Dr. Nademanee received his Bachelor of Science degree and his Medical Doctorate from Chulalongkorn University in Bangkok, Thailand. He completed his medical residency at Tulane University in New Orleans and his fellowship in cardiology at West Los Angeles VA Medical Center in 1980. In 2005, he received an honorary doctorate in medicine from Mahidol University in Bangkok. Refer to his curriculum vitae for many other significant accomplishments.
Actively engaged in research and education, Dr. Nademanee served several years as Professor of Medicine at the University of Southern California. He is a former Professor of Medicine and Chief of Cardiology at the University of Colorado. He has been a visiting professor and an invited lecturer at numerous institutions and conferences worldwide. He has authored or co-authored hundreds of clinical publications including articles, editorials, and abstracts, and is a reviewer for several prestigious medical journals.
Dr. Nademanee resides with his wife Auayporn and son Vim, and enjoys heli-skiing, tennis, and golf in his leisure time.
You're Our Priority
If you would like to meet with Dr. Nademanee, request a consultation at the office of Pacific Rim Electrophysiology using our online form. Recognized as international leaders in arrhythmia treatment and research, we serve patients from all around the world at our Bangkok, Thailand, location.
Back to Top